RStudio Conference 2020: Highlights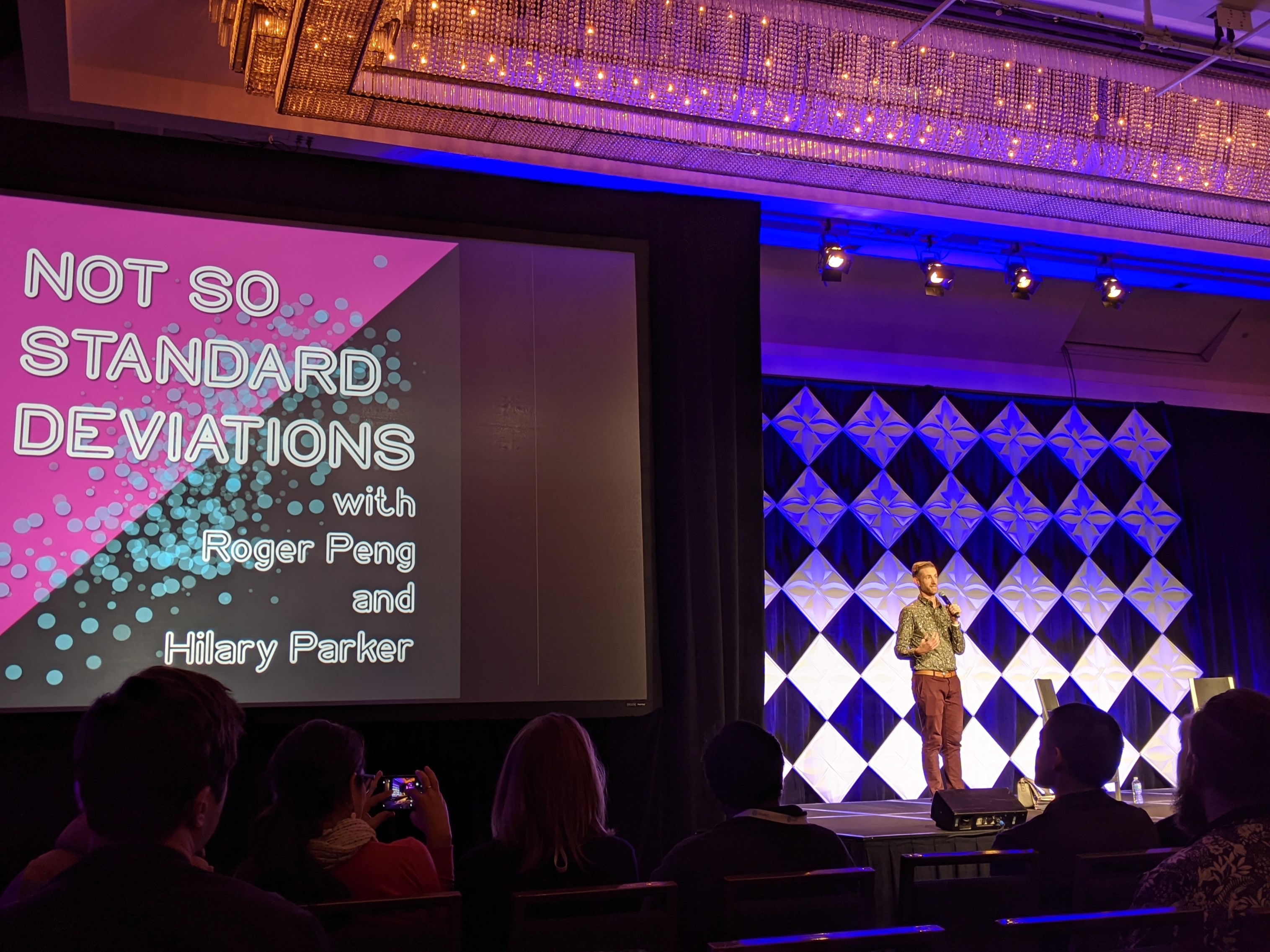 A couple weeks ago I attended the rstudio::conf 2020 in San Francisco, participating in the training day workshops as well as the two day conference for the first time. To heap on all the praise at once… I really enjoyed the experience, there was a strong sense of community among attendees and I had great conversations with like-minded R users. It is nice to discuss nuanced data analysis details without fearing that person will yawn or furtively glance at a nearby timepiece in mid-conversation. On several occasions, a common collective struggle was found between members at the same table, leading to rather passionate and opinionated debates on proprietary software, aging data environments, and analytic methods. This was further emboldened during birds of a feather events, which assisted the gathering (flocking?) of those with similar interests. Colourful pins were even provided to easily spot those from your own flock. Except when someone adorned every pin, which I presume was to either present their interest in all topics or display their love of shiny pins and successful plunder of the pin cache. As an aside, the pins, along with entertaining and informative graphics in several presentations, are the work of Allison Horst, the artist in residence for RStudio.
For those that did not attend, the full itinerary for the conference is currently posted online. Briefly, the week started with various (18) 2-day workshops followed by an evening of poster presentations, with the 2-day conference starting the next morning. There were a four keynote speakers, (too) many breakout sessions, and an evening at the California Academy of Science. The large variety of topics were aggregated into themes, such as 'programming', 'Shiny', 'Case Study', and 'Visualization'. Thankfully, rooms for each 15-20 minute breakout session were close enough together to easily transverse.
With those comments out of the way, I will switch now to a more objective documentation of insights from attending the rstudio::conf. Although I did document some of my experience through photos, most of my efforts were by scribbling digital notes. I have broken these down into three sections (keynote speakers, breakout sessions, and training days) and will provide the key highlights from each. Most of the slides and presentations have, or will, be provided online and I make specific reference to some throughout the remainder of this post. However, before we start, a picture of the goods plundered…